The Land Of China -- Explore by Province
Anhui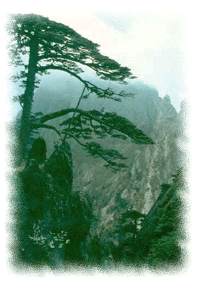 Huang Shan, the Yellow Mountains
Anhui is located in the southeast region of China. Its size is about 139,600 square kilometwes with a population of 55,550,000. The climate is mostly semi-humid in the warm temperate zone, and areas to the south of Huaihe River are usually humid monsoonal. Anhui contains 16 cities and districts.
Tourists are attracted to Anhui mainly because of its beautiful mountains, rivers, and landscape. The world-famous Huang Shan (Yellow Mountains), Jiuhua Mountain, Qiyun Mountain, and Taiping Lake are all located in this beatiful region of China. Among these, Huangshan Mountain and Jiuhua Mountain are listed as one of the world's best natural and cultural relics. There are some other scenic spots reputed for their excellent scenery, such as the Tianzhu Mountain (also known as "the South Mountain"), Langya Mountain, and Chaohu Lake, one of the five largest fresh-water lakes in China.
Anhui does not lack cultural relics either. Hexian county, Shouxian county, and Bozhou are listed among China's most famous historical and cultural cities. The main tourist cities and scenic attractions are Hefei and the Yellow Mountains.
---
The capital of Anhui is Hefei. Numerous wars were fought over this strategic location. Here, there is the Archery Training Terrace, where Emperor Caocao trained his troops to use crossbows. Also in Hefei is the Temple to Lord Bao, which was built in honor of the outstanding official of the Song dynasty. One of China's best universities, the China University of Science and Technology, is also located here.
Situated in southern Anhui is Huang Shan, the Yellow Mountains, that covers an area of over 154 square kilometers. Designated as a national park, it has all the grandeur and beauty of the five most famous mountains of China: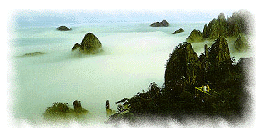 Huang Shan, at the Top of the World
Mount Tai, Mount Hua, Mount Lu, Mount Heng in Hunan, Mount Heng in Shanxi, and Mount Yandang. There is a saying that no mountain can match these five, yet a visit to the Yellow Mountains will prove otherwise and even save trips to "the Big Five". Its graceful pine trees, grotesque rocks, sea of clouds, and hot springs have won the reputation of "four unique views". The scenic attractions here include two beautiful lakes, three magnificent waterfalls, 24 streams, and 72 peaks, 1,800 meters above sea level. In 1990, Huang Shan was declared a World Natural and Cultural Heritage by the UNESCO Hertiage Committee.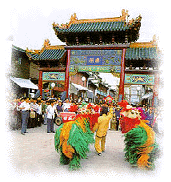 Lao Street
Lao Street is an old street in Tunxi, an important city in southern Anhui. The street is 1.5 kilometers long, running along the northern bank of the Xin'an River. It was built more than 700 years ago during the Song Dynasty, and the present street took shape during the Ming and Qing dynasties (1368-1911). The street itself and the houses along it were built in local styles which were popular in the period of the Song, Ming, and Qing Dynasties. It is paved with stone slabs, flanked by small and exquisite houses with grey tiled roofs and white walls, and lined with more than 40 old shops, helping the street retain its old tradition and atmosphere. This beautiful landmark is also called the "Song City" or "Song Street".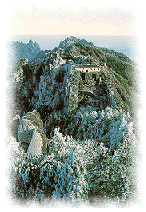 Jiuhua Shan
Jiuhua Mountain is southwest of Qingyang County, covering 120 square kilometers in area. It is one among four mountains that are well-known for containing Buddist temples, earning the mountain the fame of "the Immortal City of the Buddhist Kingdom". Worship services to honor the God of Earth are conducted here. Designated as a national park of China, the mountain holds 82 temples and monasteries with more than three hundred monks and nuns as well as over 3,000 Buddhist statues. The most famous temples are Huacheng, Baisuigong, Zhiyuan, and Ganlu. Inside the Baisuigong Temple, there is a statue of the monk Wuxia who was believed to have become a Buddha after his death.