Living & Values -- Clothing
Tradition
An outstanding characteristic of traditional Chinese clothing is not only an external expression of elegance, but also an internal symbolism. Each and every piece of traditional clothing communicates a vitality of its own. This combination of external form with internal symbolism is clearly exemplified in the pair of fighting pheasant feathers used in head wear originating in the battle wear of the Warring States period (475-221 B.C.). Two feathers of a ho bird (a type pheasant good at fighting) were inserted into the head wear of warriors of this period to symbolize a bold and warlike spirit.
Archaeological findings of 18,000 year-old artifacts such as bone sewing needles and stone beads and shells with holes bored in them attest to the existence of ornamentation and of sewing extremely early in Chinese civilization. Variety and consistency in clothing were roughly established by the era of the Yellow Emperor and the Emperors Yao and Shun (about 4,500 years ago). Remains of woven silk and hemp articles and ancient ceramic figures further demonstrate the sophistication and refinement of clothing in the Shang Dynasty (16th to 11th century B.C.).
a Traditional Dress
The three main types of traditional Chinese clothing are the pien-fu, the ch'ang-p'ao, and the shen-i. The pien-fu is an ancient two-piece ceremonial costume of a tunic-like top extending to the knees and a skirt or trousers extending to the ankles. The ch'ang-p'ao is a one-piece garment extending from the shoulders all the way to the heels. The shen-i is a cross between the pien-fu and the ch'ang-p'ao; it consists of a tunic and a skirt or trousers like the pien-fu, but the tunic and the skirt are sewed together and essentially one piece like the ch'ang-p'ao. Consequently, the shen-i was the most widely worn of the three types. Typical of these three types of clothing were wide and voluminous sleeves and a very loose fit. Tunic and trousers or tunic and skirt, utilized a very minimum number of stitches for the amount of cloth used. So because of their relatively plain design and structure, embroidered edgings, decorated bands, draped cloth or silks, patterns on the shoulders, and sashes were often added as ornamentation. These varied designs came to be one of the unique features of traditional Chinese dress.
Darker colors were favored over lighter ones in traditional Chinese clothing, so the main color of ceremonial clothing tended to be dark while bright, elaborate tapestry designs accented. Lighter colored clothing was worn more frequently by the common people for everyday and around the house use. The Chinese associate certain colors with specific seasons: green represents spring, red symbolizes summer, white represents autumn, and black symbolizes winter. The Chinese are said to have a fully developed system of matching, coordinating, and contrasting colors and shades of light and dark in apparel.
---
Today
Today, Fashion designers use a mixture of traditional and modern ideas to create new fashions. These new fashions also incorporate age-old motifs such as guardian deities, lions, and masks of Chinese opera characters. Chinese bronze is another source of printed, woven, embroidered, and applied design for clothes. Some of the distinctive designs include dragons, phoenixes, clouds, and lightning. Motifs from traditional Chinese painting also end up in woven or printed fashion designs.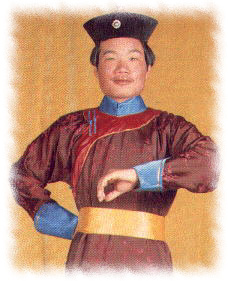 Traditional Garments
In modern society, men are seen at social occasions wearing the dignified and refined traditional Chinese long gown, and women often wear the ch'i-p'ao, a modified form of a traditional Ching Dynasty fashion, on formal occasions. The variations of height, length, width, and ornamentation of the collar, sleeves, skirt, and basic cut of this Oriental fashion are limitless.
Many accessories such as macram?are used to decorate shoulders, bodices, pockets, seams, and openings of clothing, as well as belts, hair ornaments, and necklaces. Some successful examples of combinations of modern and traditional fashion elements are the modern bridal tiara, based on a Sung Dynasty design and the Hunan Province style of embroidered sash made in the traditional colors of pure red, blue, and green. From these examples, it can be seen how traditional Chinese dress is the foundation of modern fashion. However, the Chinese have also adopted many Western styles of clothing such as business suits and jeans.